They are a fundamental part of your kit if you are an athlete. But have you ever stopped to wonder the history behind your spikes? It's fascinating, dating back over 170 years.
Spikes have their origins in the 1850's, where they were heavy leather shoes with nails driven through the soles. They provided added grip on the dirt and cinder athletics tracks of the day. Today, they are lightweight shoes with replaceable spikes to suit a number of track surfaces, incorporating space age technology.
By the 1890's spikes had begun to be sold commercially by Joseph Williams Foster, who formed the shoe company Reebok. Over time developments were made to modernise their design, with leather being replaced by light-weight kangaroo hide.
Adidas
It was in the 20th century that German cobbler Adolf Dassler pioneered the development of the modern spiked shoe we know today. They soon became popular, with Jesse Owens wearing a pair of Dassler's shoes to win four gold medals at the 1936 Olympic Games. After World War II, Dassler formed the footwear company Adidas (a contraction of his name Adi Dassler). He registered the famous three stripe logo and set about developing modern footwear. This included making significant improvements to football boots and track & field spikes.
As part of these developments, adidas began to make spikes made of canvas and rubber. Further, they started to create a range of shoes specialised for the event they were to be used for. Following a bitter family feud, Dassler's brother Rudi broke away to form a competing company, Puma. A fierce commercial rivalry followed, as did changes to track surfaces.
Controversy: The Brush Spike
The 1968 Olympic Games in Mexico were the first to be conducted on an all-weather synthetic track. With spikes no longer needing to pierce a cinder track surface to provide grip, further design innovation followed. Initially, this resulted in shorter spike lengths being used on synthetic tracks. But the most controversial innovation was the development of "brush spikes" by Puma.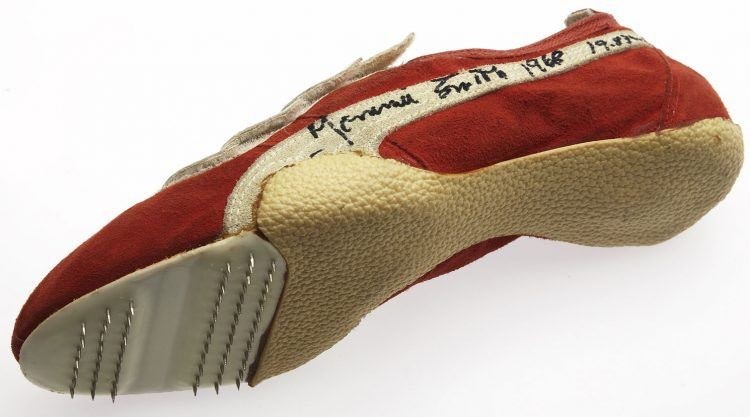 Spiked shoes had previously consisted of 4 to 6 spikes on each shoe. In contrast, Puma's brush spikes consisted of 68 short needle-like spikes, designed to provide superior grip on the new synthetic tracks. Reportedly, athletes noticed significant differences when sprinting around bends.
Brush spikes were worn by John Carlos at the 1968 US Olympic Trials at Echo Summit, where he clocked 19.7 seconds (19.92s electronic) in the 200m. Similarly, a fortnight before the Mexico City Olympic Games of that year, his compatriot Vince Matthews ran 44.4 seconds for the 400m. Both marks were better than the previous world record, but sensationally were not be ratified by the International Amateur Athletics Federation (IAAF), the global body for athletics, due to brush spikes having been worn.
IAAF Scandal
Ultimately, brush spikes were banned by the IAAF and disappeared from use prior to the Mexico Olympic Games. A indication of the ongoing feud between adidas and Puma, adidas lobbied the IAAF to ban the spikes on the grounds that the new spikes damaged synthetic track surfaces. Puma alleges that corrupt payments were made by adidas to IAAF officials to change the rules so that shoes could have no more than six spikes. However, an alternative version of events suggests that IAAF officials may have instead been blackmailed. The full truth of the matter may never truly be known…
Only 500 pairs of brush spikes were ever manufactured and whatever the truth of the decision making process behind their evaluation and ban, they quickly disappeared. With improvements in manufacturing, hard plastic protrusions, in addition to metal spikes, became common on the spike plates of modern shoes.
Innovation
Spiked shoes have continually become lighter in weight over time. Generally this has been through the use of lighter fabrics, mesh and foams. Other innovation has been more incremental and not universally adopted, such as ceramic spikes, and 3D printed spike plates by New Balance.
More recently, the emergence of spikes with carbon fibre plates and thicker soles for spiked shoes, similar to the controversial Vaporfly distance running shoes, has led to significant performance improvements for athletes. This has particularly been the case in middle distance and distance events. As a result, World Athletics (the new name for the IAAF since 2019) introduced new rules relating to the height of the soles for spikes in track events.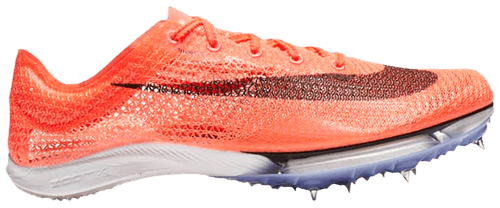 All major brands now have adopted higher 'stack heights' in their spikes, as well as carbon plates that assist with greater energy return. Some brands are even experimenting with 'spikeless spikes' such as the Asics Metaspeed LD.
Unleash your running potential with the Asics Metaspeed LD, the groundbreaking "spikeless spike" designed to take your speed to the next level. Whether you're a seasoned sprinter or distance runner, or just getting started, this shoe is your ticket to longer strides and effortless speed.